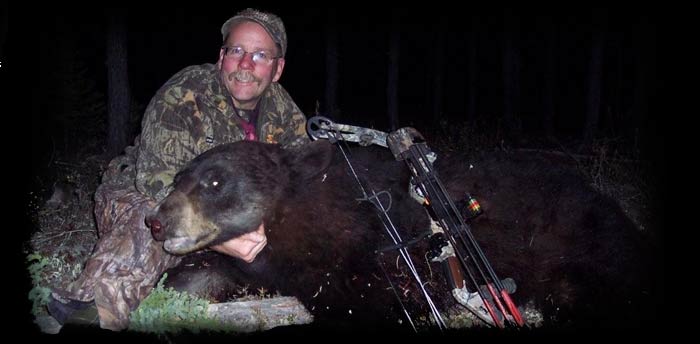 Tom tagged this Saskatchewan bigun' at 10 yards from a ground blind
Testimonials
"For the past 35 years I have bowhunted extensively across North America, Africa, New Zealand and Europe. I have been guided by many capable individuals but when I think of highly successful guides and outfitters Rob Nye's name quickly comes to mind. He is a consummate professional in his field. An accomplished hunter himself, Rob understands what it takes to put a client in a position to tag the trophy of his or her dreams.
When Rob calls me about a possible hunt destination I never need to ask any questions other than 'What day should I arrive and how do I get there?' because I already know it will be a worthwhile trip and a memorable adventure."
Tom Nelson
Host of Dead Down Wind's "American Archer" TV show
---
"I have had the privilege of hunting two years with Canadian Trophy Quest. I have harvested whitetail deer on both hunts. I was lucky enough to harvest a double drop tine ten point last year and a great 140" whitetail in 2009. The food accommodations are five star, no questions asked. All I can say is be prepared to gain weight over the week. If you are looking for a great hunt with first class hard workers and respectful, honest people give Pat or Rob a call."

Jeff Shembarger - Michigan
269-461-6624
---
"Excellent hunt.  All of your staff went above and beyond to make our stay a time to remember. I saw a lot of bucks, the setup was perfect and your guides were true professionals. I plan to highly recommend your hunt to my friends and hope to join you again next year."
 Dean Shembarger - Michigan
---
"Guides were awesome- cook & food was awesome, lodge was awesome. I've hunted with a number of different outfitters in Saskatchewan and can now say I've found the outfitter and area I want to annually repeat with each year. Everything was top-notch."
Dick Shembarger - Michigan
---
"To My Friends at Canadian Trophy Quest,
I had the time of my life on my visit to your operation. My experience was all I ever dreamed of and more. The lodge was amazing, the guides were fun and knowledgeable, and the overall atmosphere was 1st class. More importantly I was able to bring my 80 year old grandpa to Canada for the time of his life. I cannot tell you what this means to me. To be able to give back to someone that has done so much for me was an experience that I will never forget. I was able to sit on the stand with my grandpa when he took his buck, and he was able to be with me when I took mine. I will always  have those memories thanks to your hard work and knowledgeable staff. You have made a dream come true. My only complaint is that the cooking was too good! I think I left Canada a little heavier than when I came. Thank you again for what you have done for my grandpa and I'm looking forward to next season!"

Cole Law - Hope, Arkansas 
---
"I killed my first buck in 1964 in Southwest Arkansas in an old traditional southern deer camp. I was just a kid, but I was hooked on deer hunting. Little did I ever dream of hunting the largest whitetail in the world in Saskatchewan. Canadian Trophy Quest has made that dream come true! I've never seen so many deer and so many big-bodied bucks! If you are looking for the whitetail hunt of a lifetime this is the place!"
John Cannon - Texarkana, Texas
903-831-9976
---
"Many hunts are just hype. This one is not! Everything is exactly as advertised. Big bucks and large groups of deer and other wildlife are everywhere. The camp is fantastic and the best food you'll ever have is homemade by Rose. I took a great 10 pointer, (12 points in Texas counting eye guards and stickers) on day two and then had a great time around the camp with the other hunters and the outfitter guides. I plan on being back and bringing some friends. Canadian Trophy Quest is awesome!"
Ron McElyea - Abilene, Texas
325-695-9820
325-572-5166
---
"Canadian Trophy Quest is a 4-star outfitter in my opinion. Expertise, accommodations, and opportunities to hunt different set ups are all first class. The lodge staff are all friendly and helpful and the guides know the areas they hunt extremely well. If you are planning a trip to hunt whitetails in Saskatchewan let me recommend Canadian Trophy Quest."
D. Mortimer - Franklin, Tennessee
---
"November 7, 2009
Canadian Trophy Quest Outfitters would get a gold medal if there were a category in the Olympics for Outfitting. Donnie, Rob, and the guides run a first-class lodge and hunt, and I will be back with as many friends as I can bring. It's worth the trip just to eat the cooking of Rose and Beverly! Two thumbs up to Canadian Trophy Quest!"
Dr. Jim Sites
Producer/Host: Spiritual Outdoor Adventures TV & Radio
---
"I just spent a spectacular week with the incredible staff of CTQ Outfitters. Our group enjoyed first class accommodations, great meals, and most of all an incredible hunting of the great North American whitetail. Anyone desiring to pursue this awesome trophy should give CTQ serious consideration as their outfitter. Thanks a million for an adventure of a lifetime. See you next year."
Thom M. Spigner - Clarksville, Tennessee
---
"What a great bunch of people! They made me feel at home, fed me until I was stuffed with great food, and put me onto a nice buck which I took with my bow. I will be back to Canadian Trophy Quest to try for one of their monster bucks once again!"
"Thanks for everything!"
Pat Lefemine - Bowsite.com - pat@bowsitemail.com
---
"Hunting with Canadian Trophy Quest Ltd, I can always count on a good experience. Rob Nye and his crew always go out of their way to make me feel like a friend, not a client, and Rose Nye always fattens me up with her superb cooking. The trophy potential is very high on all of Trophy Quest's lands. Above all I like the wholesome atmosphere around camp without a lot of foul language and course jokes. I don't need that, and I always feel at home in Trophy Quest camps."
Dwight Schuh, Editor - Bowhunter Magazine
---
"This is my third whitetail hunt in Canada. This is the best outfitter I have been with. The lodge is first class, great cooks and guides. They do everything to accommodate you. Plenty of deer. I killed a 10 point. Three out of four of us killed. The fourth hunter was very selective. I recommend this outfitter to anyone. The head guide is very deer savvy. They do everything they can to put you on a big one. You will love Rose's cooking."
John F. Earles - Bunkie, Louisiana

---
"This was my first trip to Canada. The lodge was very clean and the cooks were very nice and the food was good. I killed a 9 point and the body was very big. As for the guides they were very accurate. I would strongly recommend Canadian Trophy Quest to anyone who would hunt in Canada.
I would like to thank Mr. Pat and the guides for all the help and fun I had."
Duayne Brignac - Bunkie, Louisiana

---
"This is my first trip to Canada. I had a wonderful time, saw plenty of deer. I had the opportunity to kill a buck almost every day. Really enjoyed the meals and hospitality. The guides really took care of our every need. I would recommend this place to anyone. I plan on coming again."
Chet Sylvester - Burkie, Louisiana

---
"I enjoyed the hunting very much. The weather was not cold for movement but saw lots of deer. I hunted for 6 days and enjoyed it. The deer movement was good for the weather. The lodge and the food was very good and guides did a very good jog. I would return if I had a chance. People are nice and helpful."
Ricky Stagg
---
"Canadian Trophy Quest was recommended to us by an outfitter in Ohio. It turned out to be everything we were told. All the accommodations were great. Rose is an excellent cook. Rob and Nathan are very knowledgeable about the area and deer patterns. We were both bagged out 3 days into the hunt. If you want to hunt Saskatchewan, Canadian Trophy Quest is the place."
Gary Luginbill - Ottawa, Ohio
419-384-3255
---
"These people know deer. Period. If you're after a trophy whitetail and want great atmosphere, this is the place. Listen to your guide. They will put you on deer, even if it is 60 degrees. Thanks for a great hunt."
Kevin Phillips
419-233-3452
---
"To Fellow Hunters:
Here's what I know about Canadian Trophy Quest:
Great food and lots of it.
First Class Accommodations
You are hunting in areas where the potential to kill a monster whitetail is with you in every stand.
Rob, Nathan, Diesel, Rose, Pat & Bev do a great job of taking care of your needs.
I'll be back every year."
David Butler - Magnolia, Arkansas
870-234-4727
---
"Canadian Trophy Quest is my first big hunt which my lovely wife gave me. The food is out of this world. Rose is the best! I want to move in but I would weigh three hundred pounds in no time. The people at the lodge are first rate. I hope to come back next year. The accommodations are first class with me. I couldn't ask for a better trip."
"I would really like to thank everyone on making my first of many to come hunts in Canada with Canadian Trophy Quest for the hospitality and service."
Paul O. Poynor, Jr. - Diana, Texas
903-736-8135
---
"I look forward to hunting with CTQ each year. It is a first class operation located in an excellent region of Saskatchewan. When you come you know you're going to see a lot of deer and have a good chance of taking a quality buck. The lodge is nice, food is good, and the guides do a great job."
Ronnie Green - Texarkana, Arkansas
903-826-1382
---
November 28, 2009
"My week at Canadian Trophy Quest is always a special time with special friends. I always look forward to this hunt. This is my 6th year and I think this was the most fun week I have ever had hunting. I enjoyed my blind in the bush, Diesel and Nathan took good care of me. Rob, Bev, Rose, Pat and little Stacy are wonderful people and a joy to be around. This is a wonderful trip for me to slow down and enjoy friends and nature. The food is great, there is lots of laughing and a great group of hunting friends. The camp is a fist class operation and Donnie is great. I love Donnie's, Pat's and Rob's attitude to always look for improvement and their work ethic! I will come every year as long as my health allows me. Thanks for the wonderful times and memories."
Bennie Westphal - Fort Smith, Arkansas
479-650-8482
---
"If you are looking for a first class canadian trophy hunt-CANADIAN TROPHY QUEST has it all. Pat and Donnie run a 10 star operation. With Rob Nye at the helm you can't go wrong. Rob's knowledge and work ethic as a professional guide is always at 110 percent. Rob's wife Rose and Rose's friend Bev cook some of the best home cooked meals on this planet.........When Rob's daughter Stacey announces supper's ready, you know you are in for a heck of a feast. Rob's staff of guides, Murry, Miller, Nathan and Diesel are second to none. The lodge and accommodations are first class. I have hunted with CANADIAN TROPHY QUEST for two years in a row, 2008 and 2009 and each and every minute of the hunt meet every one of my expectations. During the 2009 hunt I was fortunate enough to harvest a 8-1/2 year old 156 inch boone and crockett 325 pound monster 10 point whitetail. Thanks again Pat, Donnie, Rob, Rose, Stacey,Bev,Murry,Miller,Nathan and Diesel for two incredible hunts. I hope to see you all again in the years to come."
Greg Prillwitz - Eau Claire, Michigan
269-461-6585
"I had long dreamed of going on a whitetail hunting trip to Saskatchewan. A friend of mine had hunted with Canadian Trophy Quest before and had talked me into going. Early in the fall he had to cancel the trip and I wasn't going to go without a someone I knew that I could share the experience with. Then I received a call from a representative of the outfitter. He assured me that the staff was so nice and the fellow hunters (who are carefully selected) would be of such quality, that I would feel at home and among friends. I took a chance and put down my deposit. Pat Campbell held my hand through the application process and Big Dave Butler got me through the airports, customs and the drive to camp. There I met Rob the lead outfitter, his wife Rose, daughter Stacy, Bev, and the guides. The lodge was beautiful and immaculate. The staff were salt of the earth people, determined to make sure we all had a good time. The food was outstanding and the guides knew their stuff. There were 8 other hunters in camp and all were true gentleman. I shared many laughs, met interesting people from all walks of life and made friends that I am sure I will meet again someday. I was able to kill a nice 130 buck with a bunch character. Two 150 class deer were killed that week. Six of nine hunters took nice bucks and the other 3 elected to let some 140 and 150s walk. I would recommend Canadian Trophy Quest to anyone, you won't be disappointed! I plan to return as soon as I take my wife on a nice vacation to the beach or to Ireland. Thanks for a wonderful experience."
John Rader - North Little Rock, Arkansas
501-835-0306 (home
501-519-6002 (cell)